Share on Facebook
Share on Twitter
Share on Whatsapp
Share on Linkedin
Share on Email
Published March 3, 2023, 8:22 a.m.
Admission to Bachelor's and Single-Cycle Master's Degree Courses a.y. 2023/2024
Call for early admission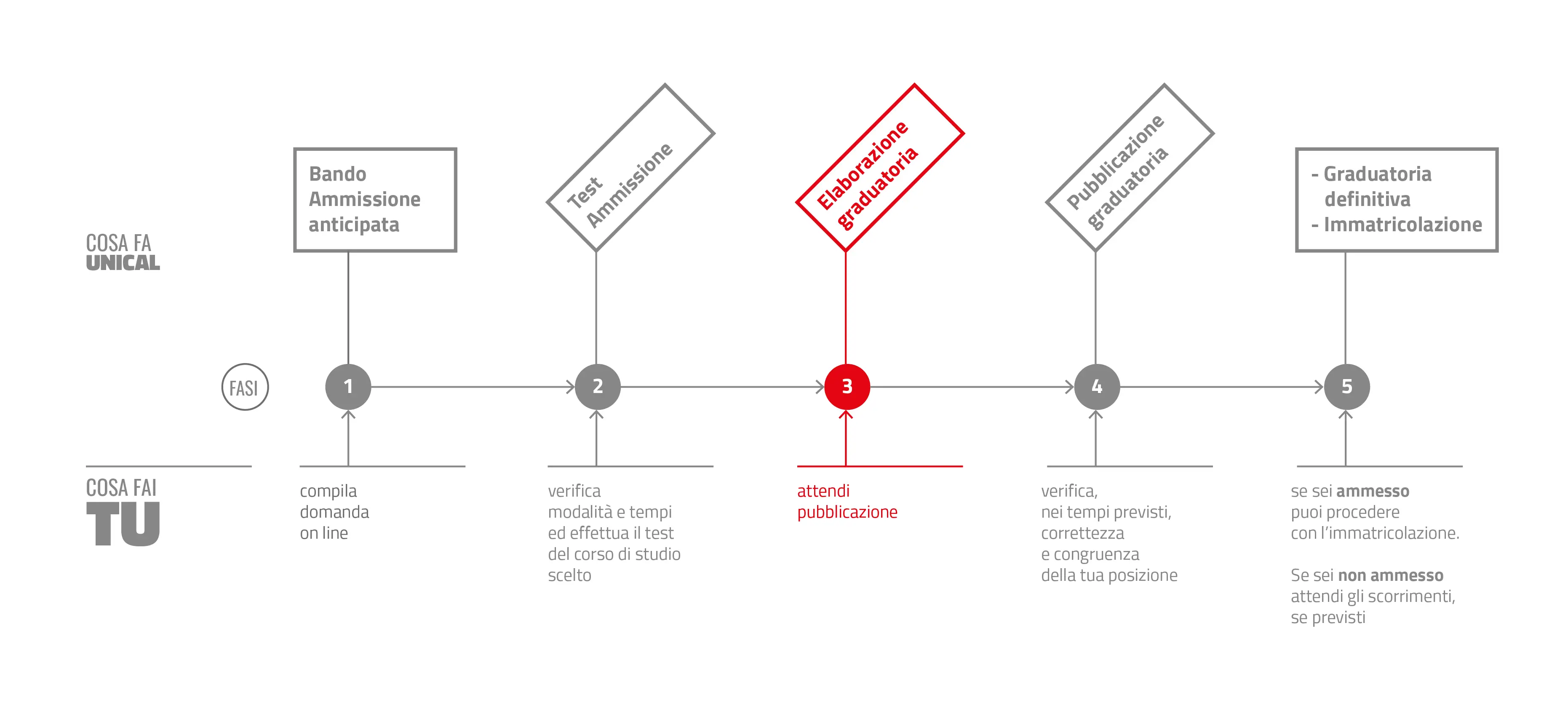 You can be admitted to the university even before having obtained your high school diploma!!!
Choose the program of your interest (see attachment 1 "Allegato 1 Posti e criteri di ammissione aa 23/24") and participate in the early admission phase by taking the TOLC
How and when
To participate in the early admission competition:
1) read the call for admission (Bando di ammissione aa 23/24) 
2) register on the unical.esse3.cineca.it website (only if you are not already registered yet)
3) complete as soon as possible (and by 31 May 2023) the application for participation in the admission competition on the website unical.esse3.cineca.it : from "Menu", "Segreteria" and then "Admission notices" indicating the choice of a single degree program.
4) register on the website www.cisiaonline.it and take the test
You can book and take the Tolc@casa relating to the degree program you wish to be admitted to on one of the dates available in the various universities by participating in Cisia by 26 May 2023. The location choice is irrelevant, you can take the test from home and then use it for all Unical's degree programs that require it during the admission phase. Even if tests are taken on dates provided by other universities, it is necessary to complete the application on Esse3 Unical.
You can check the dates available on the following pages :
The University of Calabria has also set dates for Tolc@casa:
29, 30, 31 March 2023
26, 27, 28 April 2023
24, 25, 26 May 2023
It is not necessary to send/upload the result: we will acquire the score automatically even if you took the TOLC elsewhere.
For assistance: ammissione@unical.it
Guide to registering and completing the application on esse3
Attention
Italian language L2 course is available on the platform moocs.unical.it for international students who wish to participate in the call for bachelor degrees and one-tier degree courses at the University of Calabria.
Activities are offered by the University Language Centre and have been organised around common academic needs shared by university students.
All the activities follow an integrated skills approach based on: listening, speaking, reading and writing.
More information on early admission and Tolc test dates here. 
tags